Dear Crypto Asset Investors,
A subscriber messaged me on Twitter and asked if I could analyze publicly listed cryptocurrency mining companies. This article tries to find long and short opportunities on mining companies by comparing Current Megawatt capacity, Future Megawatt capacity, Annual Ehash / Petahash Output, Annual Number of Coins Mined, and Average Electricity Cost. We also feature a new metric designed specifically for analyzing mining companies referred to as the "Efficiency Ratio". The Efficiency Ratio measures how likely it is that a mining company will go bankrupt after the Bitcoin-halving. The efficiency ratio is based on the efficiency of mining rigs that are often quoted as Joules per Terahash when buying a mining machine. We calculated the efficiency of the whole company's mining operation by taking their total megawatts capacity and dividing it by their hash output, which gives us an estimate of what type of equipment the firm is running. Firms running S9s have a high chance of not surviving the halving.
This is part one of a four part series, because there is so much to cover. We will be publishing our analysis of mining companies including Bitfarms, Hive, Hut 8 Mining and DMG Blockchain in parts one and two and then our analysis of chip and hardware manufacturers including SBI Group, NVIDIA, AMD, and Taiwan Semiconductor Manufacturing Company (TSMC) in parts three and four. We thank Patrick Scoffin of Gamma Capital for his helpful feedback on this article.
Also, thank you for the topic request! If any of you ever have a topic request, please just reach out on Twitter to @cryptomanagers or @cryptophd, and we will get to work!
Sincerely, Demelza
This article is a sneak peek of the Crypto Research Newsletter published every week to our subscribers. We do not often publish these posts publicly, so if you would like to receive professional financial analysis of crypto assets on a weekly subscribe here: https://cryptoresearchnewsletter.substack.com/
How to Value Publicly Listed Cryptocurrency Mining Companies
In parts one and two of this report, we analyze 4 companies listed on the Toronto Stock Exchange Venture Exchange (TSXV) including Bitfarms, HIVE, Hut 8 Mining, and DMG Blockchain.
Figure 1: Price of TSXV Cryptocurrency Mining Companies
Figure 2: Price of TSXV Cryptocurrency Mining Companies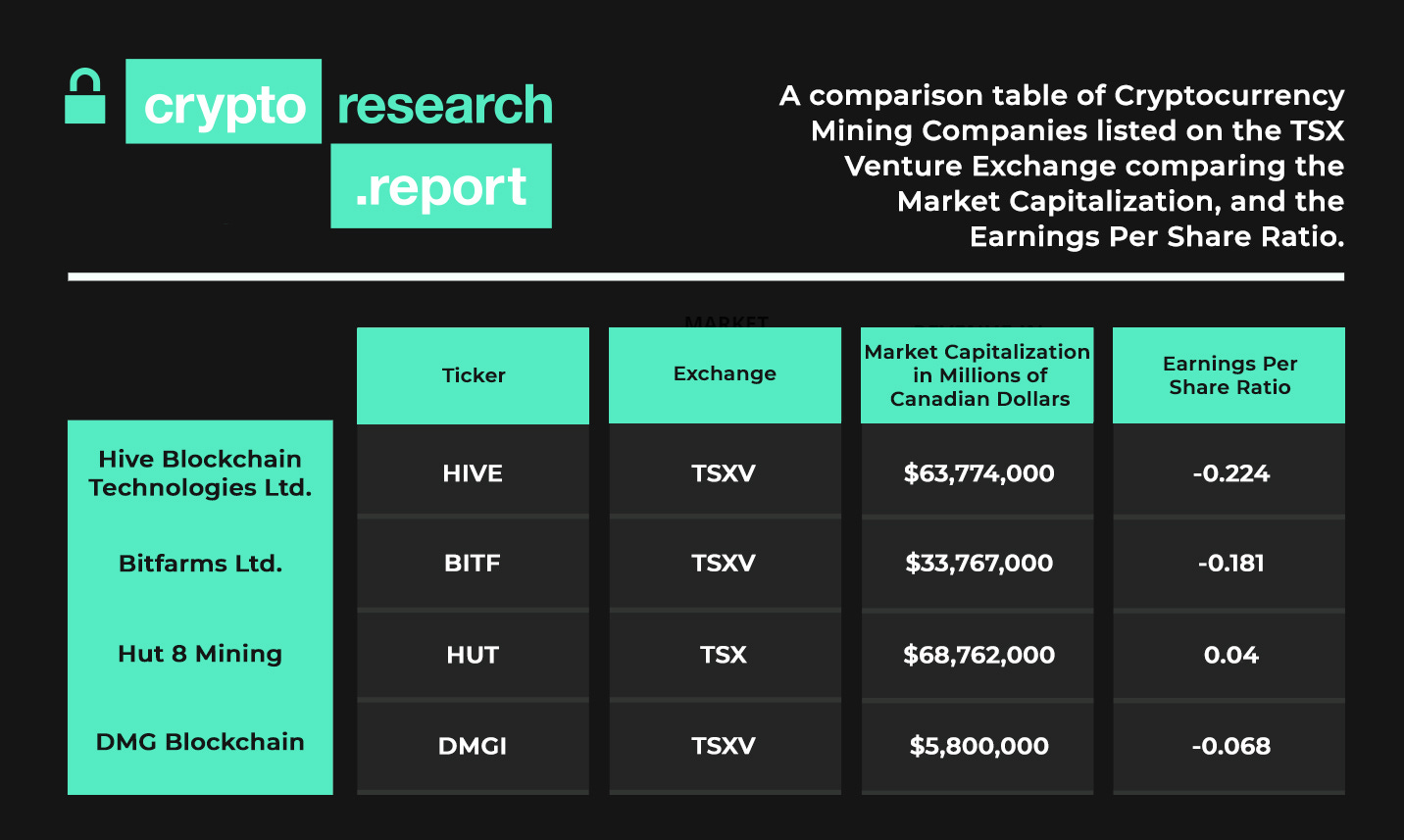 Source: Yahoo Finance, CryptoResearch.Report
According to Matt D'Souza's and Blockware Solutions recent research report on mining, mining companies that are running S9s with electricity prices above US$0.055/kWh are operating at a loss currently. Even more concerning is that the report finds that after Bitcoin's halving, many S9s will be completely shut-off unless the price of their energy stays at US$0.025/kWh or lower.
Figure 3: Breakeven Price for Bitcoin Miners
Source: https://www.blockwaresolutions.com/research-and-publications/2020-halving-analysis
HIVE = 1/5 Rating
To summarize our results, we found that HIVE is running 30 MWs in the form of S9s at an electricity price of $ US$0.04/kWh, which means the price of Bitcoin needs to stay above $5,136 in order for them to stay profitable before the halving. After the halving, the price of Bitcoin needs to stay above $8,346 in order for HIVE to remain profitable. However, they are also running 20 MWs in Sweden that they have not published any numbers on. We hope that HIVE publishes complete figures on their Petahash output and average electricity cost for all of their operations so that we can reanalyze them.
The stock closed Friday at CAD$ 0.1950 cents in Toronto, down 97% since it 2017 intraday peak of C$6.77. We briefly covered HIVE's Price to Sales Ratio of in the Crypto Research Report's February 25th Newsletter for further analysis.
Hive Blockchain Technologies Ltd. has mining facilities in Iceland, Sweden and Canada. Up until November of 2019, they were using Genesis Mining to operate their Swedish mining facility. However, in November, they switched to Blockbase Mining Group, which was founded by an old acquaintance of mine, Vlado Stanic. We covered Blockbase in the April edition of the Crypto Research Report last year.
HIVE mostly mines Ethereum. Their stock is extremely correlated with the price of Ethereum, and has traded at a premium to Ethereum in the past. During 2019, Ethereum's price went up, Ethereum's daily block reward increased, and yet Ethereum's hash rate remained relatively constant. The Ethereum network is expected to implement Programmatic Proof of Work this year, which will remove ASICs from the network. Therefore, inefficient miners like HIVE will have a better chance of surviving by mining altcoins like Ethereum. Fidelity owns 7.5% of their company, and this investment may have been seen as a way to diversify into Ethereum since most of Fidelity's mining investments are in Bitcoin. However, HIVE only mines Bitcoin, Ethereum, Ethereum Classic, and Zcash, so Ethereum's transition to proof-of-stake may negatively impact HIVE's mining income. This could explain why Hive bought Cryptologic's 30-megawatt (MW) mining operation in Quebec that has 14,000 Bitmain S9s in place.
HIVE had 20 MWs in Sweden and Iceland prior to their acquisition of Cryptologic's facilities in Canada. They now have 50 MWs in total. Cryptologic's 30 MWs cost $95,000 per MW, and they pay US$0.04/kWh. This is considered relatively low priced. The 30 MW produces about 173 Petahashes of SHA 256 Bitcoin mining computing power. They have not published numbers on what their 20 MWs in Sweden are producing in terms of Petahashes or what they energy cost is. We can only assume, the numbers are not as attractive as Cryptologic's. Their efficiency ratio is 30,000,000 Joules / 173,000 Terahash = 173, which is much higher than it should be. It should be approximately 100, because they are running S9s. Companies running S17s should have an efficiency ratio of roughly 40. This means that either Cryptologic was not using their entire 30 MW facility, or they were extremely inefficient.
Overall, we are bearish on HIVE, because they have been consistently unprofitable over the years and they just bought a facility running outdated S9s. Also, many of their financial statements and their corporate presentation erroneously reference Q2 and Q3 financial figures from 2020, when they meant to write 2019. The only take away is that they did not spend sufficient time preparing their reports. They also have basically no Twitter presence or social media presence at all.
Figure 4: HIVE's Poor Proofreading Skills
Source: MD&A from March 2, 2020 available on SEDAR, which is Canada's version of the USA's EDGAR. SEDAR (System for Electronic Document Analysis and Retrieval) is a mandatory document filing and retrieval system for Canadian public companies.
Figure 5: HIVE's Poor Proofreading Skills Version Two
Source: Corporate Presentation from March 3, 2020 available on official HIVE website.
In addition to HIVE's minimal effort proofreading, there is a weird podcast that HIVE posted on their official Twitter last year that is supposed to be the CEO of HIVE, Frank Holmes, discussing HIVE, but the podcast has nothing to do with Frank Holmes.
Stay tuned for part two on Bitfarms, Hut 8 Mining and DMG Blockchain. We will save SBI Group, NVIDIA, AMD, and Taiwan Semiconductor Manufacturing Company (TSMC) for a parts three and four that focus on chip and hardware manufacturers, but we are bullish on SBI Group's cryptocurrency hardware subsidiary that uses chips from TSMC. They are expected to compete head to head with Bitmain.
Crypto Research Report Portfolio
THIS SECTION IS FOR OUR MEMBERS ONLY. TO SEE OUR ENTIRE PORTFOLIO IN THIS WEEK'S CRYPTO RESEARCH NEWSLETTER, SUBSCRIBE HERE: HTTPS://CRYPTORESEARCHNEWSLETTER.SUBSTACK.COM/
Our Pax Gold (PAXG) is our big winner so far this year. We are lending Pax Gold on Crypto.com for 6% interest per annum. We are also earning 12% APR on our CRO coins on Crypto.com. The portfolio is earning 8.32% on USDC and 2.53% annual interest on Bitcoin on the Celsius network.
That's all for this week folks! If you would like to read our free 50-page quarterly report supported by Falcon Private Bank please visit www.CryptoResearch.Report. The report is available in English and German.